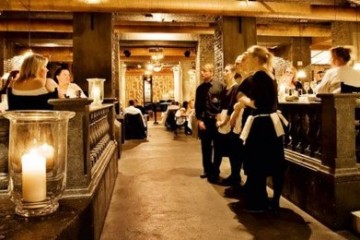 Winemaker's Dinner with 10 winemakers
Presented by Laudrup Vin
JOIN LAUDRUP WINE FOR THE BIGGEST WINEMAKER'S DINNER OF THE YEAR ON FRIDAY MAY 5, 6.30 PM:

The stage is set for a great evening in the company of 10 winemakers from some of our top producers in Italy, Spain and Germany in the charming setting of 'Teaterkælderen', Gammel Kongevej 29 in Copenhagen on Friday May 5, 2017 at 18.30.

Enjoy a truly unique evening in the company of Laudrup Wine (Laudrup Vin) and some of our finest winemakers, each of whom will personally present their specially selected wine of the evening (the wine menu of the evening consists of 10 wines in total) during a delicious 4-course menu - while 'Teaterkælderens' waiters will provide entertainment between the courses.

WINES & MENU:

Muga Conde de Haro Cava

*

Salmon tartar, crudité of carrots, shrimp mayo, crispy bread and pickle
2016 Valminor
2015 Cantayano Isaac Cantalapiedra

*

Thyme baked chicken with soufflé, sugar pickled cranberries, sauce & daicon
2013 Valdesil Valdeorras
2015 Van Volxem Scharzhofberger

*

Roast onglet of beef with fresh pods peas, pea purée, various herbs, potato & glace
2012 Caprili Brunello di Montalcino
2012 Pio Cesare Barolo
2009 Pleret (Priorat)

*

2 kinds of cheese (Vesterhavs & Hølund) with Teaterkælderens crispy bread & quince
2006 Torre Muga
2007 Bertani Amarone Classico DOC

*

Coffee & tea, plus a selection of digestifs

*

The price is only 795 DKK per person.

Address: Teaterkælderen, Gammel Kongevej 29, Copenhagen