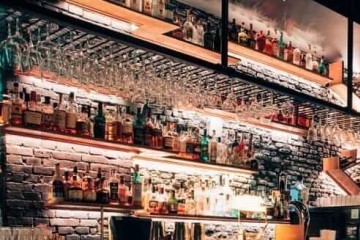 Cocktail Week Uge 42 - Bar25
Præsenteres af Cocktail Week
To cocktails - 100 kr.
Minimumsalder på baren er 18 år

Cocktail 1
Festival Cocktail
Orientalsk inspireret Gin & Tonic
bestående af Jinzu Gin og Fentimans nye Yuzu Tonic

Cocktail 2
Barens egen signaturcocktail
Summertime flashback
Kraken Rom // NORLIQ Rhubarb liquor // homemade strawberries puree // fresh lime juice
BAR25……..The newest addition to the Copenhagen bar scene
Our cocktail list embraces the classics, twists them up and delivers new cocktails. We also give our staff scope to stray from the path to achieve that perfect drink that you so require.
Shaking, stirring, mixing and matching our bar staff flow in a finely choreographed performance and we flex a menu that challenges the classic connoisseur as much as the modern maestro. Good old Drinksmithery. If there's one thing that the Bar25 team takes with the utmost seriousness that's the production of quality! Decorated with a modern feel and classic furniture throughout, you'll feel comfortable and relaxed while enjoying the good vibes.
The Bar25 team has created a bar with a warmth & sophisticated (yet sexy) environment for us Copenhagen bar goers that'll have you returning time and time again.

Adresse: Nikolej Plads nr 25 1067 København

Læs mere på:
bar-25.dk/