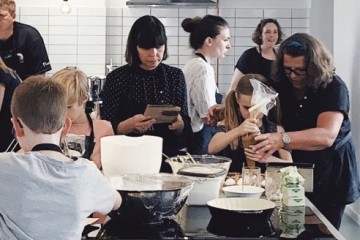 Kids Baking in the Winter Break
Presented by CPH Cooking Class
CPH Cooking Class invite you to and your child/children to our baking event in the Winter Break February 13th
Together we will create some Danish and Nordic classics:

Cinnamon Rolls
Classic Danish The Buns
and Traditional "Fasterlavns" Buns

The event will run for approx. 3 hours. Upon arrival you will be welcomed with lemonade, hot chocolate and buns. Our super cool chefs will guide through the entire process and each participant will of course get to fill a bag to bring home...

——-
February 13th 2019
Time 10:30 till 13:30
Max. Participants 18

Ticket price
Voksen DKK 450
Barn DKK 250

CPH Cooking Class
Herluf Trolles Gade 9, 1. Sal
1052 København K
——-
Your child or your children has to be accompanied by an adult.
Min age 5 years or school age.

Further, we would like to stres that we will be working in a real kitchen with sharp knives and hot ovens, it is therefore important that the adults assist their kid/kids.

We do also recommend that everyone wears solid good shoes.

Address: Herluf Trolles Gade 9, 1. Sal