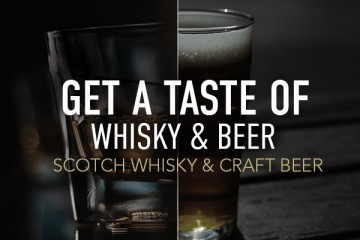 GET A TASTE OF - WHISKY & BEER
Præsenteres af Brøchner Hotels
TASTING: WHISKY & BEER
THURSDAY APRIL 11 / 18:00
245 DKK
WHISKY & BEER // WITH HIGHLAND PARK AND SVANEKE BRYGHUS

Hotel Astoria invites to a unique tasting. You get the chance to experience premium Scotch whisky and Danish Craft beer in a beautiful combination.

You will taste 3 handpicked spirits with 1 side of our very own Brøchner Organic Larger - introduced by expert Ronny Ravn,
You get insights on the history, the products and much more.

After the tastings you can buy the selection of whiskysto bring home and share (now that you are an expert).

LINE UP OF WHISKY& BEER

1: HIGHLAND PARK VALKNUT
2: HIGHLAND PARK 12 YEARS
3: HIGHLAND PARK 18 YEARS

A PINT OF BRØCHNER ORGANIC LAGER

15% OFF IN THE BAR!

You also get 15% discount on all whisky by the glass in the bar of Hotel Astoria.

Brøchner Hotels reserves the right to cancel issued tickets against refund of the ticket price. In special cases, we also reserve the right to change the location or move the ticket to another date.

Adresse: Banegårdspladsen 4, 1570 København

Læs mere på:
https://www.brochner-hotels.com/hotel-astoria/