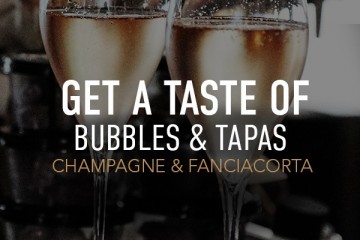 GET A TASTE OF - BOBLER OG TAPAS
Præsenteres af Brøchner Hotels
Get an extraordinary experience when Avenue Hotel Copenhagen invites to a battle between France and Italy.
Relax at the patio while you taste a selection of 6 sparkling wines presented by the wine expert, Enrico Graglia from the acknowledged 'Østjysk Vinforsyning'. For each glass, you will get an introduction and insightful story about the wines.
Along with the wines you will get dishes of tapas on the side.

You will be tasting Champagne, and Prestige Cuvee Fanciacorta

Lineup of sparkling wines - several of which have achieved high scores in respected wine media

1: BRUT RESERVE CHAMPAGNE, JEAN VESSELLE BOUZY
VS.
2: CUVEE PRESTIGE CA' DEL BOSCO FRANCIACORTA

3: BRUT RESERVE CHAMPAGNE LECLERC BRIANT, EPERNAY
VS.
4: CUVEE PRESTIGE ROSE CA' DEL BOSCO FRANCIACORTA

5: BRUT ROSE CHAMPAGNE JEAN VESSELLE BOUZY
VS.
6: BLANC DE BLANCS CHAMPAGNE LOUIS ROEDERER

All the bottles of wine from the tasting can be purchased for special prices at the end of this event.
The Tasting will be in Danish / English.

Adresse: Åboulevarden 29, 1960 Frederiksberg

Læs mere på:
https:/www.brochner-hotels.com/hotel-avenue-copenhagen/