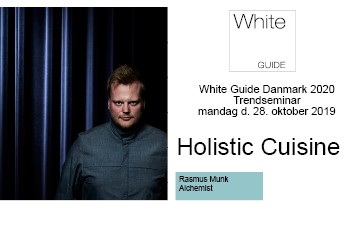 Holistic Cuisine Masterclass
Presented by White Guide
Welcome to White Guide's Holistic Cuisine Masterclass!

Meet Rasmus Munk, who introduces his groundbreaking thoughts and provides insight into how it, with a holistic approach to the work inside and around the restaurant, is possible to create unforgettable dining experiences.

Price DKK 385 incl. lunch.

The preliminary program is:

09.30 Arrival, registration and coffee.

10.00 Welcome by Niels Steenstrup Zeeberg, White Guide's CEO, who introduces the program of the day, hierarchies of trends and presents the holistic cuisine as a potential gigatrend.

10:15 Today's moderator, food critic and author, associate professor, ph.d. Helle Brønnum Carlsen, who is editor for White Guide Denmark, lines up recent trendsetting gastronomic events with a focus on innovation.

10:30 Rasmus Munk introduces the Holistic Cuisine.

11:00 Karin Visth and Poul Andrias Ziska from KOKS provides an unique insight into how they run a top notch sustainable gourmet restaurant in the wilderness.

11:30 Oyster King (Jesper Voss) enriches us with his immense knowledge about species, harvesting, preparation of and how to eat oysters from The Wadden Sea universe.

12:00 Lunch at SOHO.

12:30 Mads Østergaard Clausen (the man behind many of Arla Unika's amazing cheeses) to give us a peak into his laboratory and to demonstrate and enligthen us about how some of the World's most demanded and delicious cheeses are born.

13:00 Jesper Hansen (Fiskerikajen) provides us with a unique insight into how to select prime quality maritime products and new ways to serve them.

13:30 Rounding off with questions and answers.

Address: SOHO, Flæsketorvet 68, 1. sal. 1711 København V

Read more:
www.whiteguide.dk