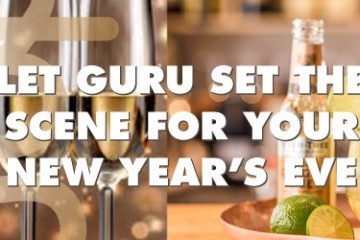 NYTÅRSAFTEN HOS GURU – RÅDSHUPLADSEN
Præsenteres af Guru Restaurant Group ApS
NEW YEAR'S EVE AT GURU – TOWN HALL SQUARE
LET GURU SET THE SCENE FOR YOUR NEW YEAR'S EVE

Guru is located in the heart of Wonderful Copenhagen just off Town Hall Square and Tivoli Gardens. Experience and enjoy the notorious and most spectacular fireworks celebration in the City

Our festive Indian New Year's menu is perfect if you're looking for a spicy and extravagant way of celebrating New Year's Eve. We offer an exquisite 5-serving menu and a 5-serving vegetarian menu

Menu :

COCONUT PASSION CHAMPAGNE COCKTAIL

BLACK PEPPER PAPPADAMS & TRIO OF CHUTNEYS FISH PAKORAS WITH TAMARIND SAUCE
Codfish in a thin spicy crispy batter served with tamarind sauce

TANDOORI MASALA LOBSTER, CAROM SEED
Lobster mildly spiced with masala, carom seed, chili, coriander, lime and ginger

SPICY MANGO CHICKEN
Chef's famous chicken curry recipe with mangoes

MASALA KING PRAWNS
Tandoori king prawns in a creamy golden curry

GURU VEG
Baby aubergine, capsicum, pearl onions and other vegetables with herbs and masala
GARLIC & BUTTER NAAN, SAFFRON BASMATI RICE & RAITA
Tandoori naan breads, saffron basmati rice and homemade yogurt'

KULFI
Homemade Indian ice cream, almond, pistachio, mango, caramelized nuts

Price per person kr. 995,- excl. ticket fee


It is also possible to order vegetarian and vegan menu.
Contact the restaurant at info@guru.dk

WINE PAIRING
We also offer a wine pairing menu including mineral water, coffee/tea. The wine is matching the dishes.
Price per person kr. 495,- excl. ticket fee
Other beverages can be ordered and paid for, on the evening.

Dinner starts from 17.00 PM and we close at midnight.
Reservations from 17.00 - 18.00 PM. have the tables for 2,5 hours. Reservations from 20.30 have the tables until midnight.

After dinner it's possible to continue the evening at the Guru Lounge Bar.
Adresse: JERNBANEGADE 3, 1608 Copenhagen V

Læs mere på:
www.guru.dk