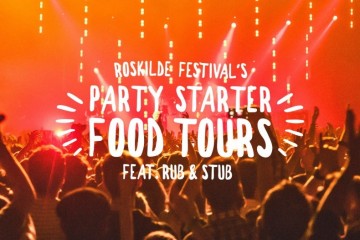 Party Starter Food Tour
Præsenteres af Roskilde Festival and Rub & Stub
PARTY STARTER FOOD TOUR
A combo containing Burger Wars, Sushi and Cocktails... And more...
The extraordinary festival party starter treatment...
Combine your afternoon warm-up with lots of taste experiences.
Food, party and atmosphere are wrapped in one.

FOOD TOURS IN GENERAL
Roskilde Festival feat. Rub & Stub presents Food Tours 2018
Food Tours give you the chance to get an exciting food experience at Roskilde Festival. They will play with your curiosity, your taste buds, guide you through the different food sites and of course feed your appetite. It's a little adventure centered around food.

Roskilde Festival is a fantastic world of its own: Four days packed with music, art, people, drinks and food. And the food is an adventure in itself. You have the the Food Courts, the Food Trucks, the new, the different and the hidden gems. The food choices are endless, and they are there for you to create the perfect festival experience…

But... Where to start? What not to miss? Which choices to make? Where to go? When to go?
Food Tours got your back! ;-)

Get more, plan less… Food tours bring you atmosphere, socializing and food all in one perfect package for you!

What to expect?
Each Food Tour guides you to at least three different food venues at Roskilde Festival.
Each Food Tour stop will serve you something for your taste buds as well as your appetite.
Each Food Tour has a different theme which indicates what to expect of the food and atmosphere.
Each Food Tour has between 15-20 participants along with a Food Tour guide.
It's about more than the food, it's a social experience surrounded by food

We'll plan so you can festival…
Also, it's Roskilde Festival… So expect the unexpected!

Dates: 5th, 6th and 7th of July 2018

IMPORTANT!

ACCESS TO THE FESTIVAL: Buying a ticket for Food Tours does not automatically grant you access to the Roskilde Festival. Festival tickets must be purchased separately through Roskilde Festival's official ticket sale.

INFORMATION PRIOR TO THE EVENT: We recommend that you accept receiving information about this specific event. Everyone accepting this, will a few days prior to the event receive an email containing important information.

MEETING POINT: All Food Tours will start at Mindelunden (next to Orange Stage) at Roskilde Festival. Please be there 5 minutes in advance.

HOW MUCH FOOD? Expect to get your appetite satisfied (it is a meal), but still have room for dancing and dinner later.

FOOD ALLERGIES AND DIETARY RESTRICTIONS: Due to the logistics of the Food Tours, it is unfortunately not possible to tailor the menu to accommodate allergies or dietary restrictions. However, there is a specific vegan // Sexy Veggie // Food Tour that will contain plenty of green elements to fill up a vegan stomach.

Adresse: Roskilde Festival

Læs mere på:
https://www.facebook.com/RFFoodtours/