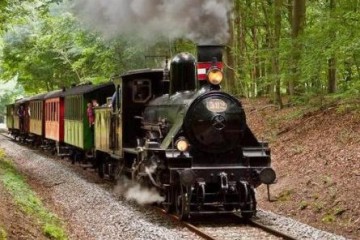 Picnic Festival 2018 - The PICNIC EXPRESS
Presented by Expo Viva
Hop on the Picnic Express to experience the Picnic Festival!

Sunday 3. june at 09.59 the vintage train - The Picnic Express - departs from Copenhagen Central Station heading to Farum Station, which is located in the beautiful region of Furesø. The special occasion is the annual Picnic Festival, that offers great food and nature experiences for the whole family.

The 45 minute train trip takes you through relaxing suburbs of Copenhagen and on through the beautiful beech forest Hareskoven. From Forum Station take the wonderful green route (1 kilometer) to Furesøbad, which hosts the day's picnic experience.

Through the whole day The Picnic Festival present activities for families and friends that highlight the region's food and nature.

To see the full program go to picnicfestival.dk

If you want to treat yourself and loved ones, order a picnicbox with tasty local specialties. At your arrival at Furesøbad your picnic box will be ready for pick up, so you can enjoy the Picnic Tapas (for 2 persons) packed with Furesø flavours.

Enjoy your picnic box by the beach or by the tables, or you can bring it on the boat trip - Baadfarten - which departs from Furesøbad and highlights several scenic spots around the Furesø lake.

(Tickets for the picnic box and the boat trip must be booked separately. Go to picnicfestival.nemtilmeld.dk)

Remember to bring your bathing clothes!

The train tickets are free for children under the age of 3.

Departure: Copenhagen Central Station at 09.59 - Return train departs from Farum Station at 16.00
Platform information follows.

The events are carried out no matter the weather. Remember to check the forecasts and dress accordingly.

Address: Afgang fra Københavns Hovedbanegård

Read more:
picnicfestival.dk/