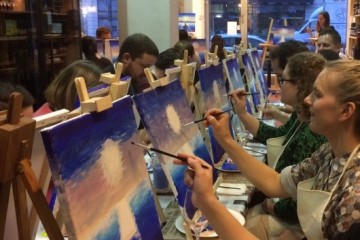 Paint Bar - with 3 glasses of wine
Præsenteres af Paint bar Copenhagen
An evening of painting in a relaxed social setting with wine, nice people and good music.
We have everything you need to create the painting and no experience is necessary.
Afterwards you'll be amazed with the artwork you have created, and you are welcome to bring it home with you.

How it works:
Upon arrival you will be shown to your seat where a canvas, brushes, paint and an apron will be ready for you. Don't wear your favorite outfit, just in case it gets messy ;-)
Our instructors will guide you step-by-step through the sessions painting, making it possible for you to create a work of art, while also having a good time with your friends.

The event will take between 2 and 3 hours and you will be able to buy refreshments at the bar. The instructor will be speaking english.

NOTE: if you want to be seated with friends who ordered in a different name. Please let us know.

Adresse: Hos Smagførst, Nørre farimagsgade 61, 1364 Kbh K

Læs mere på:
www.paintbarcopenhagen.dk