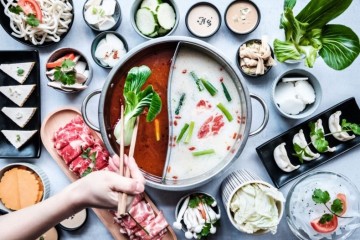 Chinese New Year Celebration
Præsenteres af Hot Pot Republic
For the 1,4 billion Chinese and most of the East Asian families, the Lunar New Year is a time of reunion. Elaborate food offerings are dedicated to ancestors; Dumplings are folded; the fire for hot pot is set and children spend weeks anticipating their gift—a small red envelope stuffed with money. One of the most important traditions for Chinese New Year is nian ye fan, --- the reunion dinner that families around the world will gather together to share.

Our head chef, Mr. Mao will perform his magic to a delicious Chinese new year menu for you. With 24 years of recognised experience in Sichuan cuisine, Mr. Mao is known for his talent to play with different natural spices using them to uncover the hidden tastes of the main food components.

Starters
Steamed Fish: Tender mørksejfilet steamed with ginger and spring onion

New Year Chilli Kimchi Hot Pot
-2 Different soup bases – Chilli Kimchi & Umami
-Tiger Shrimp, Cod & Pork
-Selection of Asian Specialties – Dumplings, Rice Cake, Tofu Skin & Tofu, etc.
-Variety of Asian Vegetables & mushroom –Bok Choy, Taro, Daikon,
-Shiitake, etc.
-2 Types of Hot Pot Dipping Sauces

Dessert
Mango Sago: Coconut milk, Sago, Mango


About Hot Pot Republic

"There is nothing you cannot solve around a steaming hot pot".
Hot Pot Republic is a newly opened hot pot restaurant and the first of its kind in Denmark. At Hot Pot Republic, not only will you get gourmet food – you will also share a unique social experience with your closest ones.

How does it work?
You and your closest friends sit around a steaming hot pot with a variety of fresh ingredients. You create both your dinner together, and share the food and memories together.
Hot Pot Copenhagen is vegetarian-friendly, gluten free, low carb, low in fat – and delicious!


Adresse: Vesterbrogade 146, 1620 København V

Læs mere på:
https://hotpotrepublic.dk/chinese-new-year/