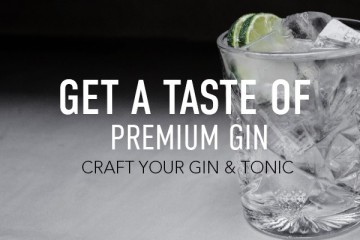 GET A TASTE OF - GIN
Præsenteres af Brøchner Hotels
PREMIUM GIN
CRAFT YOUR OWN GIN & TONICS WITH SPRIT&CO

Experience a unique gin tasting where you craft your own G&T's!

Gin is the special bar-signature at Hotel Ottilia where you find gin from all around the world. At this tasting you will be presented three different kinds of gin from around the world - in three different ways: straight, mixed and with ice and botanicals. Each gin is introduced by expert Julian Hall.

You will learn about the different combinations by crafting gin, mixers, and botanicals yourself.

You get a special price on the gins from the tasting to bring home and craft your own favorite G&T (now that you are an expert).

LINE UP OF GIN
1: Geranium - Denmark
2: Boatyard Double Gin - Ireland
3: Bathtub Sloe Gin- England

LINE UP OF MIXERS
1: Fentimans Tonic- England
2: Fevertree Elderflower Tonic- England
3: Gosling Ginger Beer – Bermuda

15% OFF IN THE BAR!
After the tasting, you can try the selection of gin in the bar at Hotel Ottilia with a 15% discount on all gin by the glass!

Brøchner Hotels reserves the right to cancel issued tickets against refund of the ticket price. In special cases, we also reserve the right to change the location or move the ticket to another date.

Adresse: Hotel Ottilia, Bryggerens Plads 7, Carlsbergbyen

Læs mere på:
https://www.brochner-hotels.dk/hotel-ottilia/