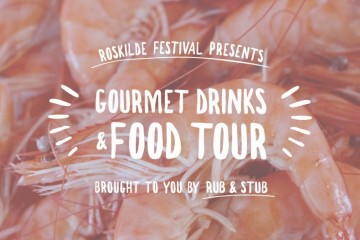 Gourmet Drinks & Food Tour
Præsenteres af Rub & Stub x Roskilde Festival
Looking for more than just a meal? The Gourmet Food & Drinks Tour will have you tasting the best of the best! We've done the footwork for you to just sit back and enjoy the ride. We have been through the whole food and drinks program and created a premium, tasteful and exciting tour. We'll guide you to the best places and the places you didn't know to look for.

FOOD TOURS IN GENERAL

Roskilde Festival presents Food Tours 2020 brought to you by Rub & Stub

Roskilde Festival Food Tours offer a wholesome experience full of festival feeling, storytelling, no lines, access to new areas and of course a lot of different food . Tasteful experiences and the stories behind set the scene while we invite you to explore the possibilities of Roskilde Festivals food scene under the wings of our amazing guides.

WHAT TO EXPECT?

- You will be guided to 5-7 different food venues at Roskilde Festival
- You will get your appetite satisfied but have room for dancing and dinner later
- The tours last around 2 hours
- There are 15-20 participants along with two Food Tour guides on each tour
- It's not just about food: it's a social experience surrounded by food and stories from behind the (food) scenes.

Remember, it's Roskilde Festival. Expect the unexpected!

IMPORTANT!

ACCESS TO THE FESTIVAL: Buying a ticket for Food Tours does not automatically grant you access to Roskilde Festival. Festival tickets must be purchased separately through Roskilde Festivals official ticket sale.

INFORMATION PRIOR TO THE EVENT: We recommend that you accept to receive information about this specific event. Everyone accepting this, will receive an email containing important information a few days prior to the event.

MEETING POINTS: Please check your ticket and be there 5 minutes in advance.

HOW MUCH FOOD? It's a full meal. Expect to get your hunger satisfied and still have room for dancing and dinner later.

FOOD ALLERGIES AND DIETARY RESTRICTIONS: Unfortunately, it is not possible to tailor the menu to accommodate allergies or dietary restrictions.



Læs mere på:
https://www.facebook.com/RFFoodtours/