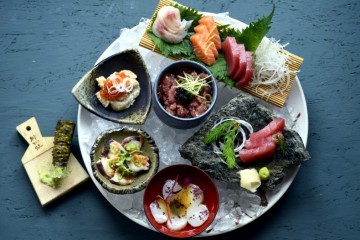 Sushi og Sashimi - Madlavningskursus
Præsenteres af Kimura's Kitchen
Love to eat sushi? Come and learn how fun and simple it can be to make sushi and sashimi at home in this popular cooking class.

I teach mainly traditional sushi, with a few modern versions to satisfy the mayonnaise lovers. My sushi classes consist of a selection of maki rolls and sashimi, and I will select them for you in this class based on the season. I use quality products such as wagyu beef, fresh local seafood, and real wasabi stems, to give you the ultimate gourmet sushi experience.

Sushi requires no introduction, and it's usually the first thing people associate with Japanese cuisine. What many people don't know however, is that the sushi in Japan is very different to what we usually find here in the West. My aim is to show you how the Japanese approach sushi, and in the class we will make everything from scratch.

I am certified by the All Japan Sushi Association, and have previously participated in the World Sushi Cup in Tokyo.

Prices are 999kr per person, and includes everything: ingredients, drinks, and aprons.

Adresse: Prags Boulevard 50, 2300 Copenhagen

Læs mere på:
https://www.kimuraskitchen.com