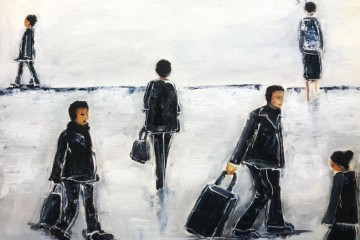 Monica Chang x Hot Pot Republic: Pop-up Exhibition
Præsenteres af Hot Pot Republic
"Monica Chang's Secret Garden"
Open August 16th – September 13th

Imagine enjoying a steaming hot pot in a courtyard in downtown Chengdu, surrounded by spicy aromas and neon lights. Or travel to a fantasy land, a secret garden where Asian and Western cultures collide, leaving you feeling solitary but not alone.

While travel adventures might be restricted this summer, Hot Pot Republic invites you to share these experience and more through art and food.

How does it feel to be part of something but also feel like an outsider looking in? Monica Chang is a Taiwanese artist and mother currently living in Copenhagen. With her Taiwanese background, Monica views Danish culture and society from the outside, while still participating in Danish life with her husband and daughter. This meeting of Asian and Danish shines through in her "Secret Garden" series as well as her more recent COVID-19 works: the feeling of being solitary, but not alone.

The exhibition will open with a reception on August 16th from 13.00 – 15.00 at Hot Pot Republic including bubbles and an opportunity to meet and discuss the works with Monica.
Free entrance.

Adresse: Hot Pot Republic Vesterbrogade 146, 1620 København