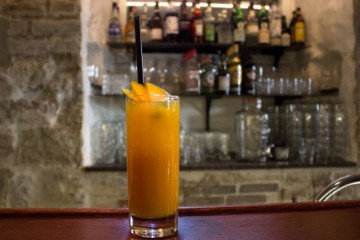 Peder Oxes Kælder
Præsenteres af Cocktail Week
To cocktails - 100 kr.
Minimumsalder på baren er 18 år

Cocktail 1
Festival Cocktail
Tanqueray Ten & Tonic
Tanqueray Ten Gin & Fentimens Connoisseurs Tonic

Cocktail 2
Barens egen signaturcocktail
Mango43
Absolut Vodka // Mango // Lime // Licor 43.
Enjoy a great night with punch and cocktails - we love a great party. Come by Peder Oxes Kælder for the informal atmosphere, our premium selection of homemade punch and cocktails and to simply enjoy life in good company.

Our basement bar is an inviting mix of design and history, with elements of the interior dating back to the Grey Friars monastery of the 14th century.

The atmosphere is casual and unlike many bars in Copenhagen our bartenders serve your drinks at the table.

Adresse: Gråbrødre Torv 11, kælderen.

Læs mere på:
www.pederoxeskaelder.dk