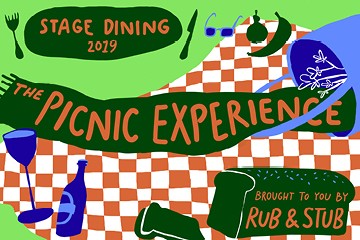 Stage Dining - The Picnic Experience
Præsenteres af Rub & Stub
Want to share a picnic basket full of sustainable fun in front of the iconic Orange Stage with your friends?

At this year's Roskilde Festival, Rub & Stub invites you for an intimate picnic with an unforgettable Orange view.
In 2018, 2000 stage diners shared a food experience extraordinaire in front of the Orange Stage. This year, Rub & Stub offers you and your friends a more intimate version, as we take Stage Dining back to basics. Down to earth, in the literal sense of the word.
Seated on picnic blankets, you and your friends will enjoy a customised picnic basket full of sustainable surprises brought to you by Rub & Stub: Flawsome fruits of the earth garnished in fun and games.
Curious? Then make sure to book a picnic basket for you and your friends now, as tickets are limited compared to last year.
See you in front of the Orange Stage!

When?
Thursday 4 July 2018 11:00 – 13:00

Where?
In front of the Orange Stage, Roskilde Festival.

IMPORTANT!

Tickets
Important info before you buy! Tickets are sold in 'picnic baskets' for up to 12 people. So if you are 5 friends wanting to stage dine together, you must buy 1 picnic basket for 5 people. If you are 8 friends, you buy 1 picnic basket for 8 people and so on. So make sure to gather your friends before you buy tickets, so you can picnic together.
If you are more than 12 people wanting to stage dine together, send us an inbox message via facebook or on stagedining@spisrubogstub.dk with the name of the people who bought the baskets. We will then do our best to place your picnic blankets next to each other.

Access to the festival
Buying a ticket for Stage Dining does not automatically grant you access to the Roskilde Festival. Festival tickets must be purchased separately through Roskilde Festival's official ticket sale.

Food allergies and dietary restrictions
It is unfortunately not possible to tailor the menu to accommodate allergies or dietary restrictions.
However, the menu will contain plenty of elements to fill up a Roskilde hungry stomach.

Pictures
Please, be aware that the event will be photographed and recorded.

Stay tuned and follow the Facebook event (see link below) to receive updates and more details as we get closer to Roskilde Festival 2019!



Adresse: Roskilde Festival in front of Orange Stage,

Læs mere på:
https://www.facebook.com/events/281174146125583/