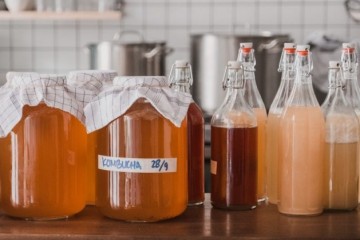 Summer Staycation: Kombucha Workshop
Præsenteres af Hot Pot Republic
Travel plans disrupted? Go on a staycation this summer ands let us bring Asia to you!

Kombucha seems to be trendy everywhere right now. Kombucha is a fermented, slightly alcoholic, fizzy, HEALTHY, tea drink.
Would you like to learn how to make your own?

Hot Pot Republic will teach you exactly how to grow and make your own, delicious, fizzy kombucha! Just like what we serve in our restaurant!

The workshop will provide you with the SCOBY to start your own kombucha and teach you how to make continuous batches of the yummy fermented tea!

Please bring a glass bottle (around 1 liter) with lid with you. You will fill it with your own kombucha after the class :)

Tickets: 250DKK
Includes:
2 glasses of kombucha served during workshop
Kombucha starter, SCOBY, to bring home
Hands-on lesson on how to grow and make high quality kombucha

Workshop held in English.

Adresse: Hot Pot Republic Vesterbrogade 146, 1620 København