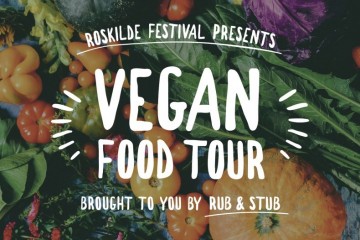 Vegan Food Tour
Præsenteres af Rub & Stub and Roskilde Festival
Vegan Food Tour - Veggie Munchin!

Full-on veggie, trying out the lifestyle or just looking for a delicious food experience? The Vegan Food Tour is next level veggie-munchin. And it's so much more than a healthy green meal. Join the tour and explore the corners of the festival to find all the interesting vegan choices on offer. We have done the digging and put together an awesome experience for you. It Feels Like It's Friday - cause I'm In Love!

FOOD TOURS IN GENERAL

Roskilde Festival presents Food Tours 2019 brought to you by Rub & Stub

Roskilde Festival Food Tours offers holistic experiences of festival feeling, community, togetherness and of course a solid meal. Tasteful experiences set the scene while we invite you to explore the possibilities of Roskilde Festivals food scene under the wings of our amazing guides.

WHAT TO EXPECT?

- You will be guided to at least three different food venues at Roskilde Festival
- You will get your appetite satisfied but have room for dancing and dinner later
- The tours last around 2 hours
- The different themes indicates what to expect from the food and atmosphere
- There are 15-20 participants along with two Food Tour guides on each tour
- It's about more than food, it's a social experience surrounded by food

Remember, it's Roskilde Festival. Expect the unexpected!

IMPORTANT!

ACCESS TO THE FESTIVAL: Buying a ticket for Food Tours does not automatically grant you access to Roskilde Festival. Festival tickets must be purchased separately through Roskilde Festivals official ticket sale.

INFORMATION PRIOR TO THE EVENT: We recommend that you accept to receive information about this specific event. Everyone accepting this, will receive an email containing important information a few days prior to the event.

MEETING POINTS: Please check your ticket and be there 5 minutes in advance.

HOW MUCH FOOD? It's a full meal. Expect to get your hunger satisfied and still have room for dancing and dinner later.

FOOD ALLERGIES AND DIETARY RESTRICTIONS: Unfortunately, it is not possible to tailor the menu to accommodate allergies or dietary restrictions.

Adresse: Meeting point: Mindelunden

Læs mere på:
https://www.facebook.com/events/1114906112041879/