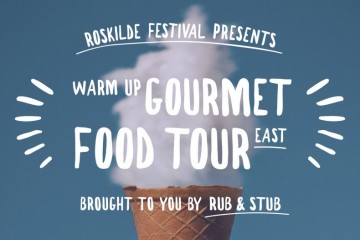 Warm Up Gourmet Food Tour (East)
Præsenteres af Rub & Stub and Roskilde Festival
Warm-Up Gourmet Food Tour - Tasty!

Feel like treating yourself to something tasty? The Warm-Up Gourmet Tour invites you to try out the best of the familiar or perhaps discover something new from the surprisingly diverse food offer in the Warm-Up days. We have made sure to pick out an amazing meal selection giving you space to simply enjoy the good vibes. Trust us, it will be delicious. I don't know about you - but I Like It Like That!

FOOD TOURS IN GENERAL

Roskilde Festival presents Food Tours 2019 brought to you by Rub & Stub

Roskilde Festival Food Tours offers holistic experiences of festival feeling, community, togetherness and of course a solid meal. Tasteful experiences set the scene while we invite you to explore the possibilities of Roskilde Festivals food scene under the wings of our amazing guides.

WHAT TO EXPECT?

- You will be guided to at least three different food venues at Roskilde Festival
- You will get your appetite satisfied but have room for dancing and dinner later
- The tours last around 2 hours
- The different themes indicates what to expect from the food and atmosphere
- There are 15-20 participants along with two Food Tour guides on each tour
- It's about more than food, it's a social experience surrounded by food

Remember, it's Roskilde Festival. Expect the unexpected!

IMPORTANT!

ACCESS TO THE FESTIVAL: Buying a ticket for Food Tours does not automatically grant you access to Roskilde Festival. Festival tickets must be purchased separately through Roskilde Festivals official ticket sale.

INFORMATION PRIOR TO THE EVENT: We recommend that you accept to receive information about this specific event. Everyone accepting this, will receive an email containing important information a few days prior to the event.

MEETING POINTS: Please check your ticket and be there 5 minutes in advance.

HOW MUCH FOOD? It's a full meal. Expect to get your hunger satisfied and still have room for dancing and dinner later.

FOOD ALLERGIES AND DIETARY RESTRICTIONS: Unfortunately, it is not possible to tailor the menu to accommodate allergies or dietary restrictions.

There will be vegetarian options in all Food Tours during the Warm-Up days.

Adresse: Meeting point: East City - Agora N

Læs mere på:
https://www.facebook.com/events/1114906112041879/