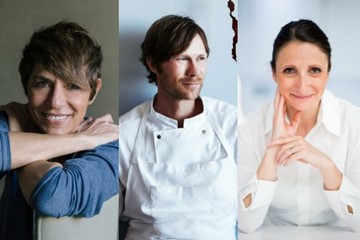 Dominique Crenn and Anne-Sophie Pic at Geranium
Presented by Geranium - the event is part of the Copenhagen Cooking & Food Festival
Rasmus Kofoed proudly welcomes Dominique Crenn & Anne-Sophie Pic for a special day of cooking at Restaurant Geranium on Sunday, 20 August 2017. The three chefs will be collaborating on a not to be missed menu highlighting their mutual respect for ingredients and creativity.
"I have wanted to work with Dominique and Anne-Sophie for quite some time. I admire their way of thinking about food and approach to cooking. They both bring a lot of talent and creativity to the kitchen. We're going to have a really great day together," Rasmus Kofoed.

Dominique Crenn is the chef and owner of two Michelin starred Atelier Crenn of San Francisco and was awarded the honor of World's Best Female Chef in 2016 by The World's 50 Best Restaurants.

Anne-Sophie Pic is head chef of acclaimed three Michelin starred restaurant, Maison Pic, located in southeast France. She is the fourth female chef to ever win three Michelin stars, and was named the Best Female Chef by The World's 50 Best Restaurants in 2011.

Restaurant Geranium, co-owned by Rasmus Kofoed and Søren Ledet, received its third Michelin star in 2016 and is Nr. 19 on The World's 50 Best Restaurants list.

Price includes: aperitif, menu, wine or juice pairing and coffee.
*Please Note: you may be sitting at a shared table with other attendees.

This event is supported by Copenhagen Cooking & Food Festival's International Development Fund.

Address: Geranium, Per Henrik Lings Allé 4, 8th Floor, 2100 København Ø