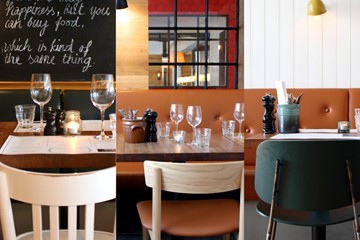 Food Crawl // City Centre // 3 restaurants in 1 night
Presented by Madklubben - the event is part of the Copenhagen Cooking & Food Festival
So many good restaurants – so little time! Inspired by the classic pub crawl this event on Sunday August 20th replaces booze with food and lets you dine at 3 different restaurants in just one night. Walk or bike between Bistro Royal at Kongens Nytorv, Tony's in Havnegade and Madklubben Bistro-de-Luxe in Store Kongensgade. Besides 3 courses served at 3 different venues the ticket also includes a glass of bubbly upon arrival.

Madklubben's Food Crawl concept breaks the boundaries of a classic dining experience. Eat your way from restaurant to restaurant without ever leaving downtown Copenhagen. While some guests get their own table, others should be prepared to dine with new friends at communal tables or at a dining bar with a view of the kitchen. Beverages can be ordered and paid on the evening just as discounted drinks packages will be available.

Please note, that you can choose between 3 different routes for this Food Crawl. Double check your selected route so you don't arrive at the wrong restaurant.

Address: Bistro Royal, Tony's og Madklubben Bistro-de-Luxe, Kongens Nytorv 26, 1050 København K