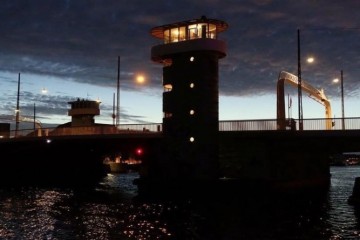 French pop-up restaurant in Culturetower
Presented by Kulturtårnet på Knippelsbro
The culture tower at Knippelsbro invites you to a classic French pop-up restaurant in week 11 and week 12. With the unique view over Copenhagen harbor, the dining experience is an exclusive and unique experience in the city center, on the bridge and by the water.

The gastronomic experience will be intimate and personal, with room for only 14 guests, spread over two-story longboards.

Dinner and wine consist of:

5 servings arranged on parts dishes, plates and board.
5 glasses of natural wine adapted to the Rosforth & Rosforth menu.

Snacks +
Cremánt de France

Bouillabaisse +
Petit Salé de Villenenue

Pork Terrine +
Le temps fait tout, Remi Poujol

Cocq au vin +
Arbois La Capitaine, Domaine de La Pinte

3 kinds of cheese +
La Lunotte, Le Haut Plessis. Chistophe Foucher

Cremé Bruleé +
Coffee

We are looking forward to seeing you a gastronomic experience in Kulturtårnet on Knippelsbro.

Address: Knippelsbro 2, 1400 København K

Read more:
kulturtaarnet.dk/mad/