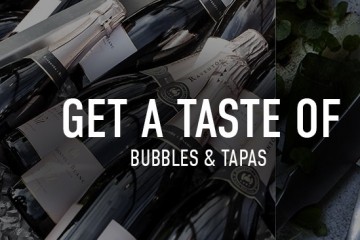 GET A TASTE OF - BOBLER OG TAPAS
Presented by Brøchner Hotels
Get an extraordinary experience when Avenue Hotel Copenhagen invites to a tasting with sparkling wine and tapas in the cozy lounge by the fireplace. A perfect match!

Relax by the fireplace while you taste a selection of 6 sparkling wines presented by the wine expert, Enrico Graglia from the acknowledged 'Østjysk Vinforsyning'. For each glass, you will get an introduction and insightful story about the wines. Along with the wines you will get dishes of homemade tapas on the side.

Lineup of sparkling wines - several of which have achieved high scores in respected wine media.

1. Cava Brut Organic, Vega Medien, Valencia
2. Prosecco Torresella Doc Cantine Torressella
3. Stellar Sparkling Extra Dry Øko, Stellar Winery 2017
4. Lust Auf Perlage Weiss Bio Baden, Weingut Rieger 2015
5. Blanc De Blancs Raventos I Blanc, Conca Del Riu Anoia, Barcelona
6. Sparkling Shiraz Limited Release Brown Brothers

The tasting will take place in Danish.

Address: Location: Avenue Hotel Copenhagen

Read more:
shop.brochner-hotels.dk/shop/product/wine-and-tapas-21-3-18/lang/da