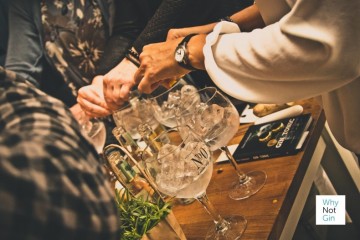 Gin & Tonic Workshop April 13
Presented by WhyNotGin
You have probably made hundreds of GinTonics already but have you ever considered the drink having cocktail potential?!

Iben Diamant from WhyNotGin has wrote the book "Gin, Tonic & Tilbehør" where you find tips and tricks on how to impress with your own GinTonics at home.
Learn the tricks, have a fabulous gin-experience and get 3 large Gin & Tonics when WhyNotGin invites to Gin & Tonic Workshop Friday March 16.

There is excellent gin on the menu. We are going to explore something Danish, something English and something new as well as luxury tonic water from Fentimans.
No matter your gin-taste there will be something for you. We promise.

The doors open at 6 o'clock. Grap the opportunity to visit the Gin & Tonic Bar.
The workshop starts at 7. Make sure to be there on time.

What you will get from your ticket:

1 copy of the bestseller book "Gin, Tonic & Tilbehør" (It's in Danish)
Presentation on gin and the best tricks to succeeding with Gin & Tonic on a whole new level provided by the author of the book - Iben Diamant.
3 x 5 cl. gin
5 cl. Ginscape Gin
5 cl. Mary Le Bone Gin
5 cl. brand new edition from Whitley Neill Gin
3 x Lamb & Watt Tonic Water (200 ml.)
A vast array of all sorts of garnish so you can mix and match your version of the world's best GinTonic.
A nice evening with other happy gin entusiasts.

We look forward to sharing the gin-joy with you!

* The workshop is held in Danish.

Address: KBH MAD HUS Ingerslevgade 44, 1. sal 1705 København V