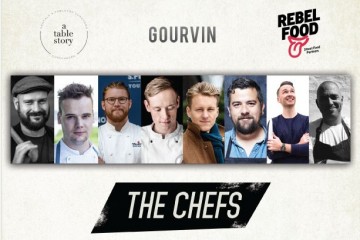 Gourmet dinner in support of integration
Presented by Cooking for a Cause
Cooking for a Cause is a dinner in support of Trampoline House, which is a community center that works to secure asylum seekers' possibilities for early integration with society. The dinner is exclusively run by volunteers and sponsors, including 8 chefs, food bloggers and gastronomes that will create an exclusive 8-course menu:

MENU

Jakob Nusbaum - gourmensch.dk
Bonfire grilled oysters, dill mayonnaise, malt soil, seaweed ashes and sorrel
~
Mik Fabricius – mikkersmad.dk
Beef tartar, butter fried bread, leek mayonnaise, onion ashes and charred pearl onions
~
Anders Rytter – frederiksminde.com
Salted codfish, burned white miso, flowers and sauce made with sheep's milk whey, fermented honey, aged flower vinegar, churned butter with asparagus

Nicolaj Christiansen – kokkelandsholdet.dk
First grilled langoustine, glazed asparagus, almond/olive creme, Terraliva olive oil sauce; Then home baked sourdough bread with juniper and trufflle
~
Karl Ejnar Jørgensen – raavare.dk
Medium rare filet of lamb rolled in spruce and herbs with shrimps and veggies
~
Thomas Alcayaga – madetmere.dk
Veal Fricassee Anno 2017: Grilled veal, spring veggies and sauce blanquette
~
Mads Cortsen - cortsendining.dk
Mild lilac mousse, rhubarb sorbet and nitro-frozen rhubarb/chamomile granita
~
Rasmus Palsgård – feinschmeckeren.dk
Agen prunes pickled in port wine, crème anglaise, salted caramel and dried hibiscus flowers

The profits from Cooking for a Cause go to Trampoline House, which is an independent community center for asylum seekers, refugees, Danes and other citizens. The house offers legal counseling, language classes, child care, creative workshops, debates and communal dinners, which makes integration easier. The communal dinners is one of the activities, that attracts most people in the house. For many asylum seekers, these dinners are essential for their experience of Trampoline House as their first home in Denmark, and the of the people in the house as their family. The donation from the Cooking for a Cause-dinner will equal the 10,000 meals that are prepared in Trampoline House every year.

Behind the initiative of Cooking for a Cause are two individuals, Jonas Leerberg Ytting Højland and his father-in-law Mik Fabricius. A little more than two years ago, they set up a simlar event for homeless people in Odense.

"After our benefit event in Odense, we agreed that it wasn't the last time we wanted to help. The refugee crisis came, and we saw children and families walk on the highway to get through Denmark. We believe that many experienced a feeling of inadequacy at that time. Luckily, there are many ways in which we can help. Therefore, it was quite easy to decide, what the profits from Cooking for a Cause should benefit. Trampoline House in Copenhagen NV doesn't only make sure that the asylum seekers get out of their centers, they also arrange communal dinners with Danes. In that way, they help creating relations between people over a meal. And that's a beautiful idea, isn't it?" say the initiators Jonas and Mik.

Address: Rebel Food - Street Food Partners / Grønttorvet 50-60, 2500 Valby

Read more:
https://www.trampolinehouse.dk/cookingforacausedk