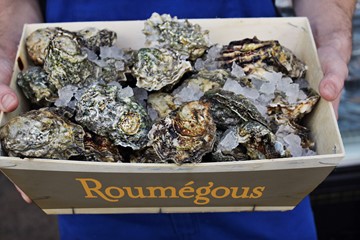 Know your oyster
Presented by fiskerikajen - the event is part of the Copenhagen Cooking & Food Festival
Are you crazy about oysters then come by Torvehallerne (the Market halls) for an amazing oyster event held by Fiskerikajen.

The oyster connaisseur Victor Monchamp visits the tent at Israels Plads to give a presentation about this salty delicacy. Fiskerikajen has invited the manufactor Roumegous as well as his chef friends Jamie Lee (Fiskebaren), Jeppe Foldager (silver medalist Bocuse d'or and headchef at yet to open restaurant Niels- Nobis Hotel) and Mads Battefeld (Restaurant Hjemme) to the event for a talk about their passion for oysters.

On the day of the event we will taste the entire assortment of oysters and touch glasses full of organic champagne from the house Durdon Bouval.
You get the opportunity to swing an oyster knife with the instructions from a professionel oyster opener, who will stop by for an oyster workshop.

Everyday Copenhagen's Torvehallerne (Market halls) celebrate the good produce and especially the last week of August all guns are blazing. As an official festival partner we make the city entirely about food during Copenhagen Cooking & Food Festival.

The ticket includes 12 oysters per person.

Address: Torvehallerne Kbh, Torvehallerne KBH Frederiksborggade 21 , 1360 København K København