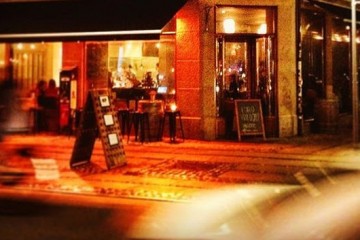 Winemaker's Dinner at restaurant TORO
Presented by Laudrup Vin
Join Laudrup Vin for a fantastic Spanish evening at Restaurant TORO in Copenhagen on Thursday 18 May at 7 pm. We have combined some of the best Spain has to offer in terms of food and wine!

This evening we present two awesome cult wineries from Catalonia: Ferrer Bobet and Castell d'Encus.

Very few winemakers in Spain enjoy greater respect from their colleagues than Raul Bobet. After 15 years of having been responsible for the total production at Torres, Raul created his own little magical place in the Pyrenees. In just a few years the wines have become a regular feature on Michelin star restaurants worldwide.

We have found the perfect combination for Raul and his wines: Restaurant TORO in Copenhagen. Since opening in October 2015 the restaurant has enjoyed a great reception from leading restaurant critics.

***

WINEMAKER'S DINNER, RESTAURANT TORO, ISTEDGADE 60, 1650 COPENHAGEN V, THURSDAY, MAY 18 @ 7 PM:

WELCOME
2012 Alta Alella Laieta Gran Reserva Cava

***

WINE MENU:
2015 Castell d'Encus Ekam Riesling / Albarino
2014 Castell d'Encus Taleia Sauvignon Blanc / Semilion
2013 Castell d'Encus -SO2 Sauvignon Blanc / Semilion
2014 Castell d'Encus Acusp Pinot Noir
2013 Castell d'Encus Tharlarn Syrah
2014 Ferrer Bobet
2013 Ferrer Bobet Vinyes Velles
2013 Ferrer Bobet Seleccio Especial

***

MENU:
Throughout the evening, TORO will serve delicious and freshly made Spanish tapas and dishes from their amazing cuisine.

Price: 795 DKK per person.


Address: Restaurant TORO, Istedgade 60, 1650 København V