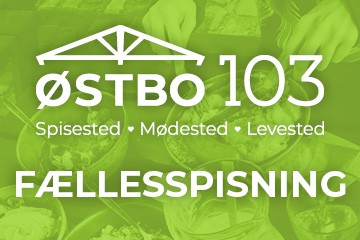 Social Dining
Presented by ØSTBO 103
Weekly social dining hosted by OESTBO 103 - dine together with villagers, neighbours, friends and family. We cook and serve, you bring your dearest and simply enjoy.

Our kitchen is limitless, out inspiration comes from many gastronomical corners of the world however, we cook mainly with danish, local and organic ingredients.

Welcome to a social out-of-your-own-apartment-kitchen - once a week - all year around.

Social Dining nights will often be presenting Standup-comedy, music, game nights and much more.

Address: Østbo 103, Århusgade 103, 2100 København Ø