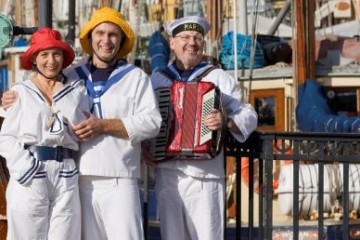 Baadfartens picnicsejlads med havfruer & sømandsviser (med og uden picnicboks)
Presented by Furesø Picnicfestival
Sing along - Picnic-cruise with musical sailors and mermaids!

With Baadfarten, you´ll get a cruise filled with musicality on the wonderful Furesø lake.
Come along on a musical journey from the old days, as we sing all the classic sailor songs while enjoying the wonderful surroundings and the great company.

We look forward to welcome you aboard!

It will be possible to book a delicious picnicbox, and bring it along on the boattrip or enjoy it by the lake or a picnic-spot of your choosing when returning from the boattrip.

When booking a picnicbox, it will be delivered to the bridge in front of Restaurant Furesø Marina 15 minutes before departure.


Address: Bådbroen ved Furesøbad, foran restaurant Furesø Marina, Frederiksborgvej 101, 3500 Værløse

Read more:
www.picnicfestival.dk