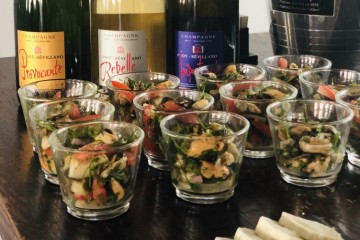 Champagne & Tapas
Presented by KESTER THOMAS
Feel like having a good time in great company?

Then bring your friends, familie, colleges or others to this cosy evening at the Champagne & Cocktail bar Kester Thomas.

From 18.00 o´clock to 20.00 we serve delicious tapas jo be enjoyed with two glasses of quality champagne.

The tapas are made from one of our catering partners, and includes a nice mix of fish, meat and vegetarian dishes. Further more you may enjoy cheese, sausages and delicous bread.

The champagnes are produced by independant champagner producers and are part of our wide champagne selection at Kester Thomas.
I you simply enjoy the champagnes and tapas, but if you´re interested, it would be a pleasure to tell you a little about the champagnes and producers.

Tickets to be bought in advance and no later than november 26.
We have a limited number of seats.

We look forward to see you at this great champagne and tapas evening!

Address: KESTER THOMAS, Studiestræde 9, 1455 Kbh