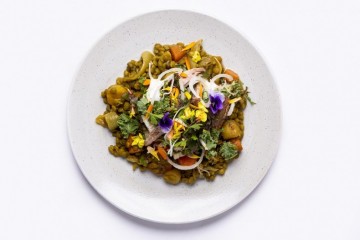 Communal kitchen at Roskilde Festival
Presented by Fonden Københavns Madhus og Roskilde Festival
Imagine a potluck where the ingredients that make up the good meal are all the people who participate.

A shared meal has always been a good way to gather people. Over the food we get a break, make room for conversation and community. At this year's Roskilde Festival you can recharge the batteries with a meal in the climate-friendly communal kitchen at City Center East.

On the plate is a sustainable, 100% organic menu composed by passionate chefs from Copenhagen House of Food. The meal suits both the vegan, the vegetarian and the one who wants a little bit from the animal kingdom. The common denominator is that climate and environment are taken into account in the selection of the ingredients.

It is social dining - festival style!

Address: City Center East, Roskilde Festival