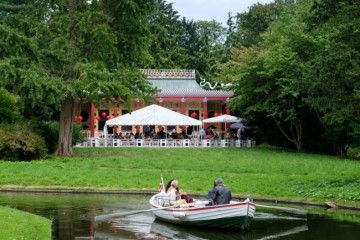 Hot Pot in Frederiks VI's Tea House
Presented by Hot Pot Republic
In 1802, influenced by the trend of Chinese architecture all over Europe, King Frederik VI of Denmark built a Chinese tea house and a Chinese island inside Frederiksberg Garden. It has since become the most beautiful and iconic part of Frederiksberg Garden, and now's your chance to experience it in a first-ever immersive, Asian experience!

In the first 2 weekends of Sep 2019, Hot Pot Republic, Slots- og Kulturstyrelsen and Music Confucius Institute will host a special hot pot event, with authentic Chinese food and live concert played with traditional Chinese instruments, enjoyed in the beautiful setting of Frederiksberg Have.

During the 4 day event, you will experience a special hot pot pop-up and a little "cultural festival" where live music with a traditional Chinese orchestra, Chinese street food and Chinese wine and beer will compliment the beautiful setting of Frederiksberg Have. You will also get the opportunity to try the traditional Chinese instruments after the concert.

Price incl.

13:30- 15:30 Special Hot Pot Experience (No vegetarian option)

HOT POT SOUP
SLOW-COOKED BEEF AND CHICKEN

HOTPOT INGREDIENTS

RIB EYE BEEF
MEAT DUMPLINGS
TOFU
TOFU SKIN
SQUASH
BUTTERNUT SQUASH
UDON NOODLE
DAIKON
CARROT
WOOD EAR MUSHROOM
SHIMEJI MUSHROOM
PAKCHOI
CHINESE CABBAGE


15:30 - 16:30 Classic Chinese Concert
by Music Confucius Instituttet, Royal Danish Academy of Music
You have the opportunity to try the Chinese traditional instruments afterwards.

What is Hot Pot?
Hot pot is one of the most social dining format. With a boiling soup in the middle of the table, you and your family or friends can put all the raw food and Asian specialities into soup, cooking and sharing the meal together.





Address: Frederiksberg Runddel 3G, 2000 Frederiksberg

Read more:
https://hotpotrepublic.dk/hot-pot-i-frederik-vi-tehus/