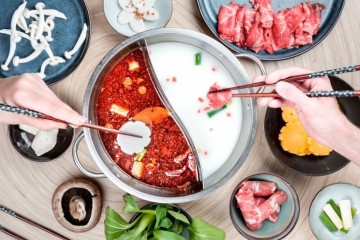 Hot Pot for 6 People (30% discount)
Presented by Hot Pot Republic
How will you celebrate when the COVID-19 pandemic is over and Denmark opens back up? How about Hot Pot?

Hot pot is one of the most social dining formats you can think of. Not only are you're your party gathered at one table sharing a healthy and delicious meal - you're "cooking" together and creating an unforgettable experience for and with each other. Our hot pot is gluten-free, dairy-free and low-carbs. Politiken's reviewers gave it a 4-heart review!

Hot Pot Republic is now offering a discount on pre-orders made during the COVID-19 lockdown!

6 persons hot pot: 30% discount (normal price 1590 kr --> corona price 1100 kr)

(The tickets can be used until 30-12-2020)

Chef's Hot Pot Menu (Vegetarian & Vegan options are available)
Normal price: 265 dkk/ person

Soup Base
Slow-cooked beef and chicken broth (or veggie soup)
4 Different flavours to choose – Mala, Kimchi, Spicy Tomato and Umami

Ingredients
cod, beef & pork, wood ear mushroom, bok choy,
green-pea-based glass noodles, dumplings, daikon, romanesco broccoli, tofu skin, tofu
Hot Pot Republic dipping sauce

Remark: You can use the tickets from the date we reopen until 30-12-2020.



Address: Vesterbrogade 146, 1620 Copenhagen V

Read more:
hotpotrepublic.dk/