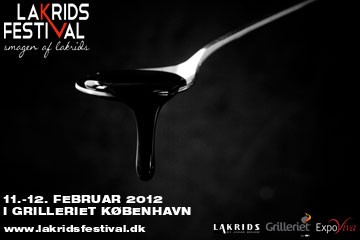 Lakridsfestival - Smagen af lakrids
Presented by Expo Viva ApS
Welcome to Denmark's first Liquorice Festival - an exclusive liquorice tour, that takes you from the liquorice root through gourmet liquorice to cakes, chocolates, sweets and beer with liquorice.

Participate in small guided workshops together with liquorice enthusiasts and Grill Chef's and join other liquorice lovers when shopping your liquorice favourites.

The Liquorice event takes place in Grilleriet by Weber on the 11th and 12th February 2012.

Time 10am to 12pm, 12.15pm to 2.15pm and 2.30pm to 4.30pm (both days)

Price per person DKK 240,-

The Liquorice journey begins precisely.
Ticket allows access for 2 hours.

Limited number of tickets.

The Liquorice Festival is presented by LAKRIDS by Johan Bülow, Grilleriet by Weber and Expo Viva.


Address: Grilleriet på Dampfærgevej 10 (Pakhus 12), 2100 København Ø

Read more:
www.lakridsfestival.dk