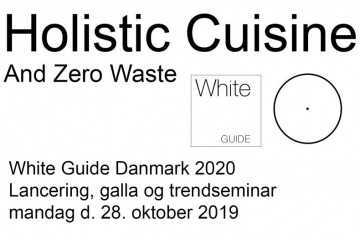 Launch of White Guide Denmark 2020
Presented by White Guide
WHITE GUIDE DENMARK 2019 - LAUNCH AND PRIZES
AT SOHO, Monday November 19, 2018 from 3-6PM.

White Guide and our partners welcome you at SOHO, where you will join Denmark's gastronomic elite for a unique afternoon.
After visiting the photographer, you enter the New York inspired premises.
Inside, you are introduced to prime products from key suppliers to the top Danish restaurants.
They serve you champagne, Danish wine, caviar, oysters, sea urchin, seaweed, chocolate and cheese.
While mingling, you can enjoy free beer from the bar.
Soon, the show is on, the prizewinners are called to the stage and receive their awards from the prize-partner.
After the 'Restaurant of the Year' has been revealed, you can pick up your goodiebag at the reception.
You can then spend the next hour visiting the last stands and congratulating the prize-winners.

Perhaps, you join the prize-winners and White Guide for the exceptional maritime gala dinner at Sølyst same evening or Thursday November 22, or as a private dining event on Tuesday November 20? Check out separate invitations.

Address: SOHO, Flæsketorvet 68, 1. sal. 1711 Kbh. V

Read more:
www.whiteguide.dk