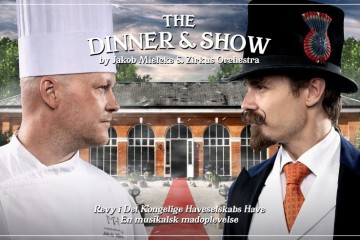 The Dinner & Show
Presented by Jakob Mielcke & Zirkus Orchestra
Friday 29th of November, gastronomy and entertainment will be hand in hand when shoot off the last days of the year.

The evening begins at 18.30 with snacks and champagne before the dinner continues at the table.
During the gastronomical seance Zirkus will entertain.

The evening culminates in sweet servings and hereafter, the bars will open while the 14 man swing orchestra and dancers, Zirkus Orchestra, lights the dance floor on fire with their final show!.

So do not forget your dancingshoes, hat or monokel when the 1920's moves in for an evening!

Ticket includes:
Aperitif, Wine pairing, Bar & Entertainment

Seating will be at mixed tables of 8.
Inquiries of seating multiple reservations together at the same table can be sent to:
booking@mhcph.com (we will deal with it as the reservations permits us).

See you there!

Address: Det Kgl. Haveselskabshave, Frederiksberg