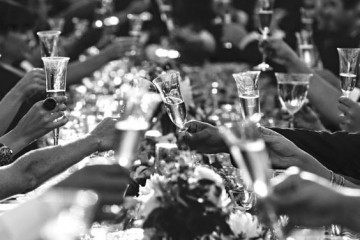 New Years Eve @Vesterbro Vinstue
Presented by Vesterbro Vinstue
Gather the best of your New Years Eve friends and put on your suits and glitterdresses for a New Years Eve at Vesterbro Vinstue.

The dinner party begins at 5.30 PM where we serve you some champagne along with the Queens New Years Speech.

The rest of the night will be filled with a 6 course menu with assorted wine menu as following:

APPETIZER
Danish oysters in a cold & clear Kombu-boullion, fermented kale & roasted sesame
Crémant de Bourgogne

LOBSTER
Ravioli filled with lobster, quale yolk, caviar from Kalix and browned butter
Riesling Kabinett Trocken, Weingut Petri

COD
Cured cod with Danish & Icelandic seaweeds, crispy fennel, roasted mustard and citronette
Bourgogne Blanc, Chateau de Demessey

RED DEER
Filet of red deer, with winter truffles, Jerusalem artichoke, & cranberries
Valpolicella Doc Superior "Rocolo"

CHAMPAGNE SORBET
Champagne sorbet with pistachio & saffron cake with a cloudberries coulis
Kopke Tawny 10 års portvin

KRANSEKAGE
Traditional Danish New Years Eve pastry
Brut Nature, Jordán de Asso, NV

Looking forward to see you!








Address: Istedgade 128, 1650 København V

Read more:
www.vinstuerne.dk