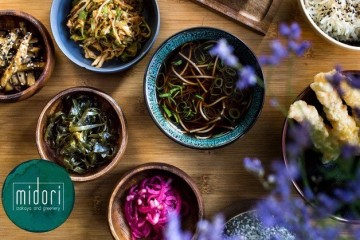 Oysters- sake- izakaya / extravaganza
Presented by Midori Izakaya & Sake
Midori Izakaya is pleased to invite you to an evening tasting arrangement with focus on oysters & sake.

On this evening we will be pairing a selection of the best sake on the market, with a massive string of of oysters of equal outstanding quality.

For this event we have invited 2 very experienced gentlemen in the field ;

- Michael Hassenkam/ Fiskerikajen, expert & oyster connoisseur par excellence, also second to none handling an oyster knife.

- Peter Fogh/ Seidokan Japan Center , passionate sake sommelier with certificate from Daimon Breweries, Osaka.

We will start the evening with Michael Hassenkam presenting 10 different kind of oysters, with these Peter Fogh will pair and present 5 kinds of sake.

After our kitchen chef have prepaired a special izakaya menu for the evening, this with inspiration from the japanese and korean kitchen.

If you have a passion for sake, oysters, japanese, korean cuisine- this one is for you.

The price pr. pers. is 799.-, this includes :

- 10 types of oyster

- tasting of 5 kinds of premium sake

- izakaya menu

We are looking forward to see you in Grønnegade 28.

Address: Grønnegade 28, 1107 København K

Read more:
www.midori.dk