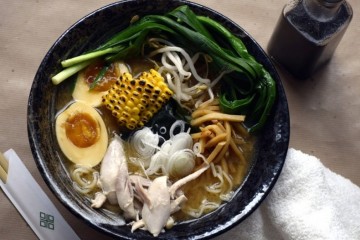 Paitan Ramen cooking class
Presented by Kimura's Kitchen
Have you heard of Paitan ramen? If not, now is your chance to experience this killer ramen dish! Paitan is a white chicken broth made in a similar way to Tonkotsu, but easier to do at home.

Learn how fun and simple it is to make ramen at home in my most popular cooking class.? I offer different types of ramen, and this class is focused on Paitan Ramen, also called chicken tonkotsu.

Ramen is a Japanese dish that has rapidly gained popularity all over the world, thanks to it's bold flavours and versatility, as well as being the ultimate heart warming soul food. It's Japan's version of fast food, and it can be found all over the country with many exciting regional versions. And what could be more suited to the Nordic climate, than a steaming hot bowl of wheat noodles, drenched in an umami rich broth, and topped with delicious marinated meat and vegetables...

Prices are 999kr per person, and includes everything: ingredients, drinks, and aprons.

Address: Prags Boulevard 50, 2300 Copenhagen

Read more:
www.kimuraskitchen.com