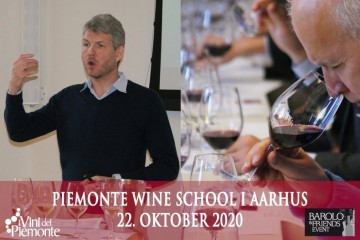 Piemonte Wine School in Aarhus
Presented by I Vini del Piemonte
On 22 October 2020 Aarhus will host a tasting seminar of Piedmontese wines at the Hotel Oasia. The lesson will be held by Thomas Ilkjær, director of the Piemonte Wine School in Denmark, responsible of Vinakademiet, the school for sommeliers in Copenaghen, and author of the most important guide on Italian wines published in North Europe and by Christian Thoursholt Jacobsen.

PROGRAM:

22 October 2020 – 17.30/19.00 – Hotel Oasia Aarhus
Barolo and Barbaresco
They are called the king and the queen, big brother and little brother, the masculine and the feminine. But perhaps realities are not quite that simple? In this lecture we shall taste Barolo and Barbaresco and compare the two great Nebbiolo wines face to face.

Address: Hotel Oasia, Kriegersvej 27, C, 8000 Aarhus

Read more:
Hotel Oasia, Kriegersvej 27, C, 8000 Aarhus