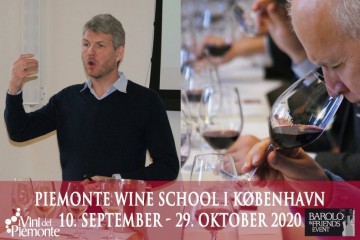 Piemonte Wine School in Copenhagen
Presented by I Vini del Piemonte
In the Autumn Copenhagen will host, once again, seminars guided by Thomas Ilkjær and Christian Thoursholt Jacobsen to spread and promote the Piedmontese wine culture in Denmark.

The 2020 program includes four tasting seminars of Piedmontese wines in the prestigious cooking school Hotel – og Restaurantskolen of Copenhagen. The lessons will be held by Thomas Ilkjær, director of the Piemonte Wine School in Denmark, responsible of Vinakademiet, the school for sommeliers in Copenaghen, and author of the most important guide on Italian wines published in North Europe and by Christian Thoursholt Jacobsen.

PROGRAM:

10 September 2020 – 17.30/19.00
Barolo and Barbaresco
They are called the king and the queen, big brother and little brother, the masculine and the feminine. But perhaps realities are not quite that simple? In this lecture we shall taste Barolo and Barbaresco and compare the two great Nebbiolo wines face to face.

24 September 2020 – 17.30/19.00
The many faces of Nebbiolo
Nebbiolo is doubtless Piedmonts most famous grape variety. It has a unique and recognizable profile but changes nevertheless depending on growing condition and vinification. In this lecture, we shall take a detailed look at Nebbiolo and test its many versions from all over the region.

8 October 2020 – 17.30/19.00
The subzones of Barolo
No other Italian wine district has had a historical focus on single vineyards and subzones more intense than Barolo, where the Cru-wines has been on top of the agenda for decades. In this lecture we will taste examples of the different Barolo-terroirs and discuss what causes the more or less pronounced differences.

29 October 2020 – 17.30/19.00
Off-road Piemonte
Beyond the famous Nebbiolo and Barbera wines Piedmont holds a true treasure of indigenous grape varieties and rare wines with great personality. We find whites with ageing potential, spumante from champagne grapes, unique reds and sweet specialties. In this lecture we go off the beaten track and pass some unique wines.

Address: Hotel - og Restaurantskolen, Vigerslev Allé 18, 2500 Valby

Read more:
barolofriends.dk/da/events/piemonte-wine-school-2020/