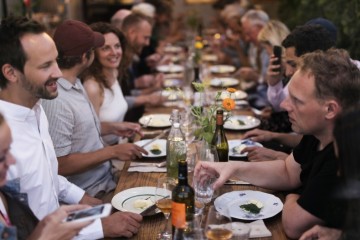 Rødder Dinner
Presented by Broens Gadekøkken
Join us when Rødder pops up at Broens Gadekøkken and invites you to join a long table dinner.
The menu will be build around lots of late summer greens from small farms and pigs from Hindsholm. Everything will be served family style in a relaxed setting at the urban food market.

Menu:
- Snacks from the kitchen
- Porchetta of Hindsholmgris
- Late summer greens from the grill
- Fennel, cucumber, buttermilk
- Potatoes from Hyldemarken
- Apples and crunch

All served with sourdough bread

Beer, wine and water can be bought from one of the three bars of the street kitchen, where Rødder will have selected a few wines to match the food.

Address: Strandgade 95, 1401 København

Read more:
https://thebridgestreetkitchen.com/