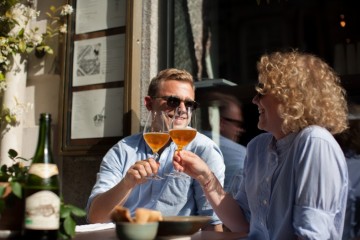 Theatre Menu for two
Presented by Winterspring
Soak up the evening sun and enjoy the summer ambience at Winterspring's Dessert Bar from 6 PM to 11 PM on Thursday, Friday and Saturday nights throughout the warm summer months.

The menu is for two, and is perfect for before or after a visit to the theatre. The menu is also great for long evenings spent enjoying the summer sun in fantastic company.

The menu consists of a vibrant hummus made on split peas and leeks, a fresh salad made with white quinoa, herbs and puffed buckwheat, a cheese platter with 3 cheese from the southern region of Zealand coupled with crispbread and a delectable green tomato chutney, and a terrine made with danish baby potatoes.

Experience the menu alongside two glasses of wine or cider of your choosing for 500 DKK. Remember to send a reservation to reservations@winterspring.dk. We look forward to seeing you at Winterspring for fantastic wine, delicious food and lovely summer evenings.

Address: Store Strandstræde 16, 1255, København K