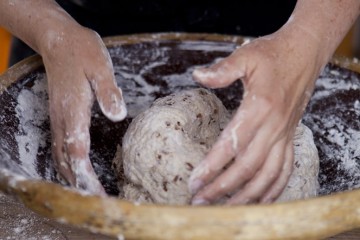 Scandinavian Baking
Presented by Hahnemanns Køkken København
Trine is a devoted home baker. She thinks baking is therapeutic and believes everyone should bake at home.

Baking – both of bread and cakes – is a labor of love. It is a small and everyday act in life that is nevertheless one of the most powerful ways to show another person that you care for them. Baking at home was a passion of mine long before I thought about working as a cook.

What will you learn to make in this class?

In Trine's bread baking class, you will get an insight into her world of baking. She will teach you a selection of recipes from her bestselling book Scandinavian Baking and thereby you will dive deeper into Trine's philosophy and Scandinavian food culture. Hygge is about how to be kind to ourselves and our loved ones, baking your own bread could easily be part of your everyday life. We will work with sourdough and the best flour Denmark has to offer from Skærtoft Mølle and Korneby.

In this baking class, Trine will demo the Danish rye and you will get a sourdough starter, to take home. We will also bake Danish "Sigtebrød", spelt buns and sweet anise bread. We will learn about the sourdough starter and flour quality - and why this makes a difference.

This course will be taught in English and takes 4-5 hours.

In our classes
We will offer you a cup of tea or coffee, water and some snacks upon arrival. After some background information and instructions, you will experience the cooking class and learn how to make the recipes yourself. You will be able to take a booklet with all recipes of the class with you. The food you made, can either be consumed together after the work is done or you can take it home with you.

What to know about Trine
Trine is an expert on and ambassador for modern Scandinavian food and she cooks, writes and lectures on the subject around the world. She is an advocate for sustainable solutions, organic sourcing and food cooked with love. Trine has written ten cookbooks in her native Danish and six in English including the bestselling Scandinavian Comfort Food. Read more.

Address: Hahnemanns Køkken, Sankt Kjelds Plads 12, 2100 København

Read more:
https://www.hahnemannskoekken.dk/kurser/