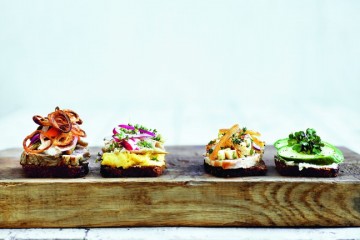 Smørrebrød
Presented by Hahnemanns Køkken København
Open sandwiches

Smørrebrød is a unique Danish way of eating, one the biggest Danish contributions to the world of food culture.

As child, I loved this kind of unconventional eating in our small kitchen, just my mother and me, usually on those evenings after my grandfather had mailed us a really good salami from his local butcher (…) I still remember how that salami on rye bread tasted in our kitchen in Copenhagen.

What will you learn to make in this class?

Smørrebrød is an open sandwich, a piece of rye bread with a variation of toppings. Hidden rules are applied, and flavour combinations are important - smørrebrød is both for everyday eating and special occasions.

Come join Trine for a workshop of making smørrebrød! You will be able to make your own 3-4 pieces of open sandwich, with fish, meat and vegetables and one of your own choice. We will then set the tables and sit down and eat together. We will introduce a variety of snaps and beer that goes well together with smørrebrød.

Join us for an Easter smorgasbord! Class starts at 11am and will end around 2pm.

What to know about Trine
Trine is an expert on and ambassador for modern Scandinavian food and she cooks, writes and lectures on the subject around the world. She is an advocate for sustainable solutions, organic sourcing and food cooked with love. Trine has written ten cookbooks in her native Danish and six in English including the bestselling Scandinavian Comfort Food. Read more.

Address: Hahnemanns Køkken, Sankt Kjelds Plads 12, 2100 København Ø

Read more:
https://www.hahnemannskoekken.dk/kurser/