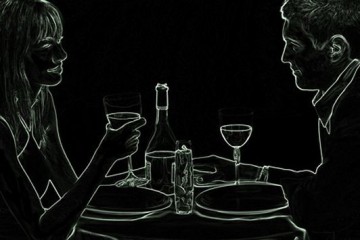 Dinner-event in the Dark
Presented by Kulturtårnet på Knippelsbro
The Culture Tower's pop-up restaurant in January 2019, I made with Dark Darker Dark Baker.

Evening event in the dark is a dinner that you, your boyfriend, friend or your company have never tasted before - and I will never forget.
It's fun, intimate and cross-border at one and the same time. In an unfamiliar setting in the Cultural Tower, you will be given an experience for life - a unique experience in Kulturtårnet on Knippelsbro. An experience where all your senses get free play.

What can I expect:
When I arrive at Cultural Tower, you will be warmly welcomed by your host who will guide you through the evening while enjoying the delicious 6 course sensory menu.

The price is DKK 995 per Person.

What is included?
• 6 course sensual menu I totally dark.
• Wine menu or non-alcoholic drink menu.
• Coffee and coffee.
• Audio quizzes and live performance.

As a part of the experience, the menu is secret, but one of your allergies or vegetarians, so of course you can get their own menu by mentioning it when booking the experience.

Dinner arrangement in the Dark is a unique combination of delicious food, strong sense of impressions, an unforgettable experience and plenty of time and space for immersion and intimate conversations. I will laugh, wonder and guess what you get to eat.
The food is good, but when one can not see what is said in the mouth, it is cross-border (in the best way) for most.

Address: Knippelsbro 2