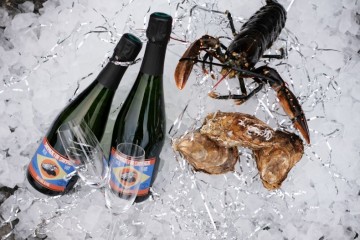 Fiskebaren's luxury ingredients -For your New Year's party at home.
Presented by Kødbyens Fiskebar
We are selling Danish luxury ingredients for your New Year's Eve dinner at home. We provide the ingredients and recipes - you do a bit of cooking.

The luxury box contains Limfjords oysters - the last surviving wild oysters in Europe - live lobster from Limfjorden, cod from Langø caught in nets near the coast, Søren's chocolate tart, and of course homemade "kransekage". You also get sustainable vegetables, as well as dips and condiments with the box.

The boxes are on sale until 28 December 12.00.
Pick up: 31 December, 11.00-14.30, at Kødbyens Fiskeslagter, Slagterboderne 11.
Price: 550 DKK ex. fee.

Menu
(Pr. person)

Oysters - Limfjorden
2 Danish Limfjord oysters w. lemon and vinaigrette

Lobster - Limfjorden
½ Danish black lobster w. estragon emulsion and green salad

Cod - Langø
180 g. cod filet w. brown butter. Terrine of Jerusalem artichoke, potato, and spinach. Brussel sprouts. Parsley root puré

Chocolate Tart
1 piece of Søren's famous chocolate tart with nougat and hazelnuts. Served with vanilla creme.

"Kransekage"
1 piece of "kransekage"

Please notice that you have to cook and prepare several parts of the menu yourself.

Address: Slagterboderne 11, 1716 København V

Read more:
https://fiskebaren.dk/