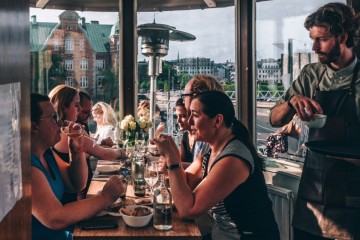 Summer restaurant in The Culture Tower on Knippelsbro
Presented by Kulturtårnet på Knippelsbro
With perhaps the best harbor view in Copenhagen, an intimate summer restaurant is opened in The Culture Tower.

Now you have the opportunity to enjoy a dinner with 4 servings on partial dishes, plates and boards.
The gastronomic experience will be intimate and personal, with room for only 14 guests, spread over two floors and 10 guests on the balcony. Accompanied by a wine menu composed from Rosforth & Rosforth's cool wine cellars under the bridge.

The intimate restaurant offers:

Welcome drink of sparkling wine and salty snacks, 4 servings arranged on partial dishes, plates and board and three exciting glass of natural wine from Rosforth & Rosforth.

The menu:

Starter:
Gazpacho med cucumber
Pét Nat Blanc 'Folle Bulle' 2017 Chenin Blanc

Second course:
Tapas with Truffle salami, Cecina de León, chorizo, lucques olives,
artichoke
Déjà 2018 Syrah

Main course:
Grilled beef tenderloin with mini carrots, new danish potatoes, carmelised onions and glace
Barbera d'Asti DOCG "Ronco Malo"

Dessert:
Lemon panna cotta with cardamom crumble and berries
Zé Bulle Pét Nat Blanc Rose

We look forward to seeing you at a gastronomic experience in The Cultural Tower!

Address: Knippelsbro 2

Read more:
www.kulturtårnet.dk/mad