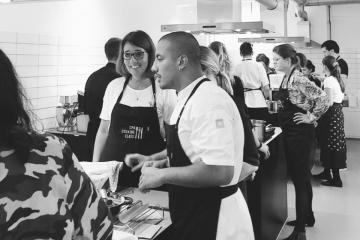 Food Friends
Presented by CPH Cooking Class
"Nynne is one of the hearts behind CPH Cooking Class, she's a true foodie and knowledgeable food communicator. "Mad Ven" also listed as "Food Friends is her new pocket project that originates behind the thought of gathering the community around "The good everyday food."

"Mad Ven" is a small test project that we are hoping to create a community around and build up as a fixed part of our repertoire.
Together we will create the content, but the frame is that we will meet around the dinner table and cook good everyday food.
It's all about "hygge", and with a little wine in our glasses i'm sure we can cook some tasty food together.
The menus are planned on te day, it will be based on seasonal good heathy everyday food, and of course a little sweet to finish off the evening.

We hope that these upcoming events will create the foundation for new exciting friendships, we hope that both expats, couples, families, singles, older and younger will come and be co-creators on this small pocket project.

We offer an intimate evening with 18 seats and the event has a duration of about 3 hours incl. dining.

Address: Herluf Trolles Gade 9, 1.

Read more:
www.cphcookingclass.com